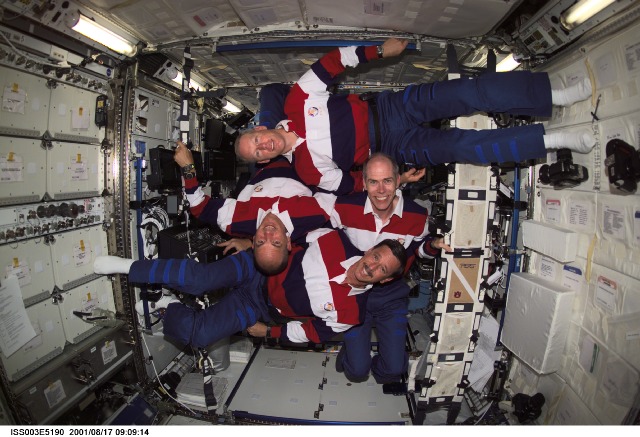 39
Astronauts striking a pose in the ISS
Whether you (space engineer or scientist) like it or not, it seems like we (artists) want to work with you in space. Findings reflect an almost unanimous desire on the part of the artists to collaborate with the scientists aboard the ISS and suggest that collaboration between the arts and sciences will inevitably influence astronaut working hours, shifts and scheduling. The place in which to carry out these collaborations is both in an intimate context and throughout the rest of the station. I found that these interactions didn't have much impact on ISADORA as a studio and does not necessarily have impact on ISADORA as a lounge. Both studio and lounge can accommodate collaborative works. Collaborations, however, may have more of an impact on the shape of the space program than the shape of the module itself.
Jurgen, for example, suggested that the crew of the ISS should be balanced; 3 artists, 3 scientists and one technician. If that simple suggestion doesn't have impact on the space program I don't know what will! Cinara, although she had mentioned the importance of time for individual research, also mentioned the need to avoid isolation and exchange ideas with the rest of the crew. Donald Fleming spoke of engaging people in workshops while David Lakein would want to be aware of the experiments going on up there. He explains: "I'm assuming that I would be able to access most of the space station … What would it be like to be up there and to be exposed to and confronted by what those people were doing? … it could actually be extremely rich to go out into the whole space station to act as a sponge. Get that experience predominantly as a passive observer. The question would be to what extent would you be active? Not that I would be assisting in an experiment since I don't have the educational background for that, but still, there's something about that. What would it mean to go out and take those experiences back?… How could I relate that back to my own investigation, research in the ISADORA Module? The opportunity there that could be so rich is how is science and art connected? How can science inspire art? How can an experiment with protein crystals enter my awareness, conscienceness and be given an expression in this supposedly more artistic space? …Is it just this weird freaky artist in the last pod on the left in the ISADORA Module just freaking out doing their thing or what is the relationship, the inter-relationships?"
Roel-Jan said he would not view the astronauts as an audience. "I would view the people back on Earth as an audience. If I had to view the people on board as an audience I would tell them about my work, my philosophies. Not that I have these grand philosophies, but my view on the world. I would share my insights that I learned in my short life. I wouldn't perform for them. Just talk to them and share the weirdness of the situation."
Bunzl describes ways in which he works which speaks a lot about the nature of site specific work. "I work in two ways; one way is that I work site specifically in that I let the location determine much and the other way is that (what I think I prefer) is to project some sort of fictional reality into an existing location. So I would take an industrial building and project a very intimate kind of warm reality into it which normally doesn't belong there; a fantasy projected and materialized in this place which doesn't belong somehow." Bunzl as well as Lakein and Fleming also imagine developing some ideas for involving the six astronauts in some form." While Alida would use the astronauts only for feedback. Cinara would prefer feedback from other artists perhaps on the ground.
Fernando takes the notion of site specificness further and as an anthropologist would regard the astronauts as the subject material. "Maybe I'll like to know whether after they come back or while they are still in space, whether their perception of their lives on Earth changes or the perception of their communities. That's something I would like to know and I would also like to see how they interact with their communities back on Earth assuming that there can be a day to day interaction. I'd like to pry (laughs) on to their communications with their families and friends and the people they know on Earth."
So there is going to be a site-specific nature to the work carried out. This site specificness implies that artists are not going to confine their works to the ISADORA Module. Naturally, this will require the full collaboration of the agencies in charge of the modules in which works will be executed. But if the intention is to create a platform free of constraints then the rest of the station and what the astronauts are doing will and should be explored. All of this raises a larger question - how to forge a relationship between art and space agencies in order for these interactions to take place. Artist's comments about collaboration unveil the issue that ISADORA cannot simply exist in a vacuum (no pun intended). The Module's relationship and the artists' relationship to the space program will require much logistical defining. So in the Lift Off chapter I will discuss the various relationships that can take place. For getting this thing off the ground will depend much on how art and space science can unite.
Time to be inspired…
---