: : : Bio: : : Ricky Seabra : : :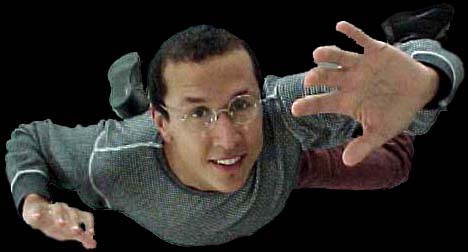 Ricky Seabra : : : Artist of Amazonian and Portuguese extraction slightly ruined on some level by the same fascist elementary school that Pat Buchanan attended. Astronaut wannabe, land and sand artist, concept designer and plastic architect, performer and frustrated dancer (but I do dance a mean salsa). Two lives ago I was a pearl diver from the island of Tortolla and last life I was a Soviet bureaucrat.
I graduated from Parsons School of Design in New York City and I'm currently pursuing a Masters degree in Design Research at the Design Academy Eindhoven in The Netherlands.
I worked as an artist and designer since 1987 in Brazil, the U.S. and Europe and collaborated with choreographers in Holland and Brazil.
Since 1999 I've been lecturing at space industry conferences and universities on lunar architecture and the idea of including artists in the International Space Station venture.
: : : Curriculum Vitae : : :
born Washington DC 1964
Nationalities: Brazilian & American
1e Van Swindenstraat 108 III, 1093 GK Amsterdam, The Netherlands
yo@rickyseabra.com
www.rickyseabra.com
: : : : : : : : : : : : : : : : :
Education
Foundation Year at Corcoran School of Art, Washington DC, 1983
Bachelor in Fine Art in Communication Design, Parsons School of Design, New York City 1987
Masters in Design Research, Design Academy Eindhoven, The Netherlands, 2001. Thesis: The ISADORA Module; a design for an Arts and Humanities Module for the International Space Station and it's implications for the space program.
Exhibitions
Ceci N'est Pas Mon Soleil, an exhibit by Art Race In Space (an art group co-founded by Ricky Seabra) combining art and solar science made in collaboration with the European Space Agency, Salle Gaveau, Paris, April 2001, Noordwijk September 2001
International Necronautical Society Residency at the Austrian Cultural Institute, participant as interviewee in an exhibit about "death as a type of space", London, 2001
Seven Hills Millennium Exhibit at the Martin-Gropius Bau, Part of the Berliner Festspiele, Wrote article "The Poetic Potential of Space" as part of Exhibit Catalogue, Berlin, 2000 > > > read article
III Barro de America Roberto Guevara (Land Art Biennial), Performed an installation version of De Areia e Mar (From Sand to Sea) with Andrea Jabor in the Experimental Room of the Museo de Bellas Artes, Caracas, 1999
Ecofest at the Theatre for the New City, two proposals for site specific installations of "The Hallelujah Towers" in the Brazilian Central Plains, New York City, 1992
The Fine Arts Salon of Brasilia, Acquisition prize awarded for "Contrary Forces" 122cm x 152cm. silver leaf and resin on wood acquired by The Art Museum of Brasilia, 1991
The Museum of Contemporary Art "25 Artists from Brasilia", Goiania, 1991
The Art Museum of Brasilia "30 Years of Art in Brasilia", 1990
Itaœ Gallery "Airplanes Forever", Solo exhibit in Brasilia and Goiania, 1990
National Book Institute "Airplanes" Solo exhibit in Brasilia, 1989
Performances
De Areia e Mar (From Sand to Sea), a fusion of contemporary dance and fine art for stage co-directed, co-produced and performed with choreographer Andrea Jabor.
Premiere October 1997, Brazil in Caracas Festival, Venezuela.
Festival Temporadas Populares, Brasilia, February 1998,
Theatre Festival of Curitiba, March 1998,
Universidade do Professor, Faxinal do Ceu, Parana. July 1998,
Brazil in Merida Festival, Merida, Venezuela, September 1999
Cacilda Becker Theatre, Rio de Janeiro, October 1999
FILO 2000, Festival Internacional de Londrina, Brazil, April 2000
Millennium Moves, Internationale Tanzemesse NRW, Essen, June 2000
> > > images of From Sand to Sea
Monsoon, artistic director Rajesh Mehta, Working as creative consultant and performing sand art on stage, Melkweg Amsterdam,

Have You Ever Flown on a Day Like This? choreography Ricky Seabra & Andrea Jabor, Dans Werkplaats Amsterdam 1997
House of Niemeyer, choreography Ricky Seabra & Andrea Jabor, various performances at the Jogo de Cena Night of Experimental Theatre, Brasilia, 1992
Airborne, solo dance piece, choreography Ricky Seabra, Athos Bulc‹o Gallery of the National Theatre of Brasilia, 1991
Design, Moving Image and Creative Consultancy
Com(e)post choreography Donald Fleming, Designed and wrote projections of phrases in dance piece about ethical issues and consequences of gene research, Toured 12 cities in Holland.
Puerto Cabello version of De Areia e Mar (From Sand to Sea), Collaborated with the video group UCV 0:24 of the Universidad Central de Caracas in the direction and production of a site-specific version of De Areia e Mar (From Sand to Sea) on Puerto Cabello beach, Venezuela, 1999
Miramax Films Part of creative team. Designed posters and promotional material for such movies as Pulp Fiction, The Piano, The House of the Spirits and Pret-a-Porter, New York City, 1993-94
Indika NYC Part of creative team. Designed posters and promotional material for such movies as Exotica, Unzipped, Restoration, Blue in the Face and others, New York City, 1994-96
TamadÔua Sam Multi-media musical by Hamilton Vaz Pereira staged in two Brazilian cities, co-directed video segment with Ricardo Nauemberg, 1992
A Culpa Ž da M‹e, A musical comedy for stage. Set designer, Brasilia, 1991
Sonnets from the Pork 'n' Cheese, Winner Best Animation, New School for Social Research Animation Festival, New York City 1986
Conferences & Interviews
"A Moon with a View", Interviewed for SPACE.com about 5 Guidelines for Lunar Construction, April 2000 > > > read interview
"Can Art Break Science's Monopoly Grip on Space?" Interviewed for SPACE.com about the ISADORA Module, April 2000 > > > read interview
Presentations of The ISADORA Module for the Arts and Humanities Project have been made at:
> The International Astronautical Federation conference, Session T.1. Overview of Space Stations, Toulouse, France, October 2001
> Mediamatic Salon@BABY, Amsterdam
> Space Technologies Applications International Forum (STAIF 2000), Albuquerque New Mexico, February 2000
> Cultural Perspectives in Space, Leonardo Space and the Arts Workshop, OLATS, Paris, March 1999
> Life in Space, Leonardo Space and the Arts Workshop, OLATS, Paris, March 2000
Collaborated with BEOS a subsidiary of DaimlerChrysler Aerospace in a market survey for cultural utilization of the International Space Station, Bremen, Germany.
"5 Guidelines for Lunar Construction", Abstract accepted for International Astronautical Federation conference, Rio de Janeiro, 2000 > > > read abstract

"Tranquillity & Alto Canaveral; a Twin-City Lunar Project", presented lecture and guided workshop on lunar-base architecture for the AEGEE (Association des Etats GŽnŽraux des Etudiants de l'Europe) at their Building on the Moon - Space-Tech 1999 Conference at the Technical University of Delft, February 1999
"Building on the Moon" (Bouwen op de Maan) Interviewed for Dutch Television Program "NOVA" together with Chriet Titulaer and Wubbo Ockels, March 1999
Zero Gravity Workshop London, presented an art/athletics proposal for parabolic flight and a project for a performance on the ISS, November 2000
J™ Soares Talk Show, Interview & presentation of performance De Areia e Mar with Andrea Jabor, 15 million television viewers, Brazil, April 1998
------------- END of Ricky Seabra CV. Updated August 2001 -------------
V i s i t . m y . s i t e .: